Adviser Q&A Session with Nick, Adam and Tom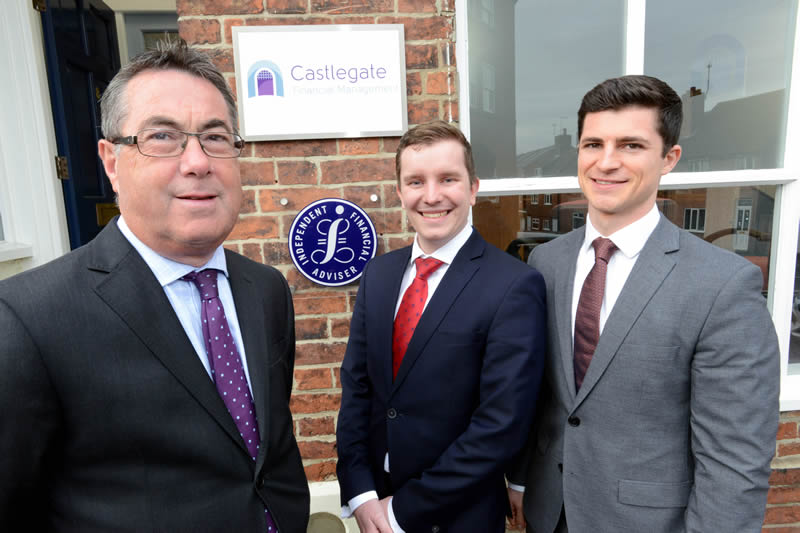 Over the past year, Adam and Tom have been working alongside the senior and Chartered Advisers at Castlegate, particularly Nick Lawson, to ensure clients continue to receive a high-quality service.


As we celebrate our 25th anniversary as a financial planning firm, we wanted to introduce Adam and Tom to you by asking them and Nick some questions so you can get to know them better:



How did you enter your career in financial planning?

Nick: I originally joined the accountancy practice, Duncan & Toplis, in 1979, and over time I started to become involved in share portfolios and became the practice's Investment Manager. After realising my interest was in the stock markets and generating returns, as opposed to accountancy, I turned to financial planning and have been with Castlegate since it founded in 1994.

Adam: I graduated from Nottingham Trent University in 2015, with a genuine desire to help people. I joined Castlegate shortly after this, turning this desire into my role as a Financial Planner.

Tom: I entered financial planning via a slightly unusual route – working as a solicitor first. Over time, it become clear to me that the cases that provided the most interest were those focussed on estate planning and IHT mitigation. I felt my skills were therefore better served in these areas, and shortly after I qualified as a Financial Planner through Castlegate.


What do you find most interesting about your job?

Nick: Helping clients achieve their aims and being part of the support process. I'm also still interested in the stock market, and how money can be made. I enjoy the varied nature of the job, and it's interesting to see how the industry has changed over the last 40 years – particularly the regulations!

Adam: Meeting new people, and not only understanding their goals and objectives but helping them to achieve these. I'm also still very much interested in the technical aspects of the role, particularly markets and funds.
Tom: I enjoy the variety of the different clients I meet and being able to develop unique and tailored financial solutions for each individual. The industry is continuously evolving and it's exciting to see new products introduced and new legislation passed.

What do you like most about being part of the Castlegate team?

Nick: The friendly spirit that the whole team shares. If there's ever an issue, there is always somebody willing to help. As they say, there's no 'I' in team.
Adam: Having worked at Castlegate for several years I can confidently say the people. Our team are friendly and helpful, and I hope the clients see that as much as we do.


Tom: Castlegate is a great place to work. Everyone is supported and encouraged to progress and the whole team works together to serve the best interests of our clients. 


Talk about one interesting thing you have learned about this year, in the world of financial planning.

Nick: Throughout the last few years, I have noticed how great an impact the media can have on people's perceptions of financial markets, especially following the Brexit referendum. I believe this has encouraged clients to discuss the economic environment we live in – more than ever before.
Adam: I've been looking into protection recently, and a new study showed that eight out of ten mortgage holders don't have income protection. I find this an interesting, and often overlooked, area of financial planning.


Tom: I have further developed my knowledge of various inheritance tax planning strategies, particularly business-relief schemes and how business-relief qualifying investments can be used to mitigate a client's inheritance tax liability.



What activities do you like to engage in outside of work?


Nick: I enjoy playing golf, and I'm an avid enthusiast in wildlife welfare and photography, and a lifetime fan of Nottingham Forest.
Adam: I go to the gym throughout the week, and I play cricket most weekends for the Welby village team.


Tom: Various sports, including golf, tennis and squash. I also enjoy walking in the lake district with my fiancée. 

How has the industry changed throughout the years, and how do you think it will change in the next 25 years?


Nick: I believe over the last 40 years the financial industry has grown from an unprofessional, unregulated industry to a respected and honourable one. I believe the introduction of Chartered status, which Castlegate and myself hold, has demonstrated there is a place for professional and quality advice. My main concern moving forward is that not enough young people are joining the industry – thankfully this isn't a problem at Castlegate given the training structure we have in place.
Adam: I believe technology will continue to improve, coupled with new products being introduced to the market. The need for professional financial advice will only grow, as clients are met with more flexibility and choice.

Tom: How the industry ultimately develops will depend on the political landscape in the country, however I expect there will be further reforms in respect of pensions and potentially an overhaul to inheritance tax. In any event, I believe the team here at Castlegate are best placed to look after our clients. 

Finally, where do you stand on the idea of an office dog?


Adam: Amazing idea. I'll bring mine!
Tom: Strongly in favour, but why stop at just one? 

Nick: In full support. It could be a calming influence – if you get the right dog!